About us
Established in Dubai in 2021 as JAH GENERAL TRADING LLC, we have swiftly emerged as a prominent player in the international health and beauty retail industry. With our headquarters located in the vibrant district of Al Barsha 1, we are proud to operate our flagship store, MeStore, which has quickly become Dubai's premier destination for health and beauty products at affordable prices.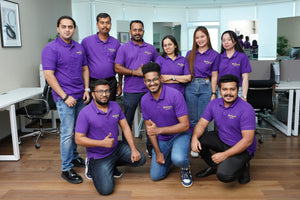 At MeStore
We have always been committed to setting new standards in the health, wellness, and beauty markets. Our unwavering dedication to our customers is embodied in our promise - "Cheaper than everyone." This mantra serves as our driving force, inspiring us to go above and beyond in our pursuit of excellence. Our ultimate goal is to bring smiles to people's faces by providing them with the best selection of health, well-being, beauty, and personal care products, both in-store and online.
We firmly believe that everyone deserves access to high-quality health and beauty products without breaking the bank. That's why we constantly strive to offer our customers unbeatable prices, ensuring that they can prioritize their well-being and self-care without compromising on their budget. Our commitment to affordability, combined with our extensive range of products, has earned us a loyal customer base and propelled us to the forefront of the industry.
As we continue to expand our reach and grow as a company, we remain dedicated to upholding our core values of quality, affordability, and exceptional customer service. We are excited about the future and look forward to serving even more customers with our unparalleled selection of health and beauty products. At MeStore, we are here to make a positive difference in people's lives, one affordable and high-quality product at a time.